Denny Dealer Services offers you a variety of financing options to meet your needs. Contact us today to learn more.
---

Canadian Financial
Denny Dealer Services has joined the Canadian Financial Group of Companies and offers multilevel financing options for small to medium businesses, equipment purchases, mortgages and private auto and RV sales.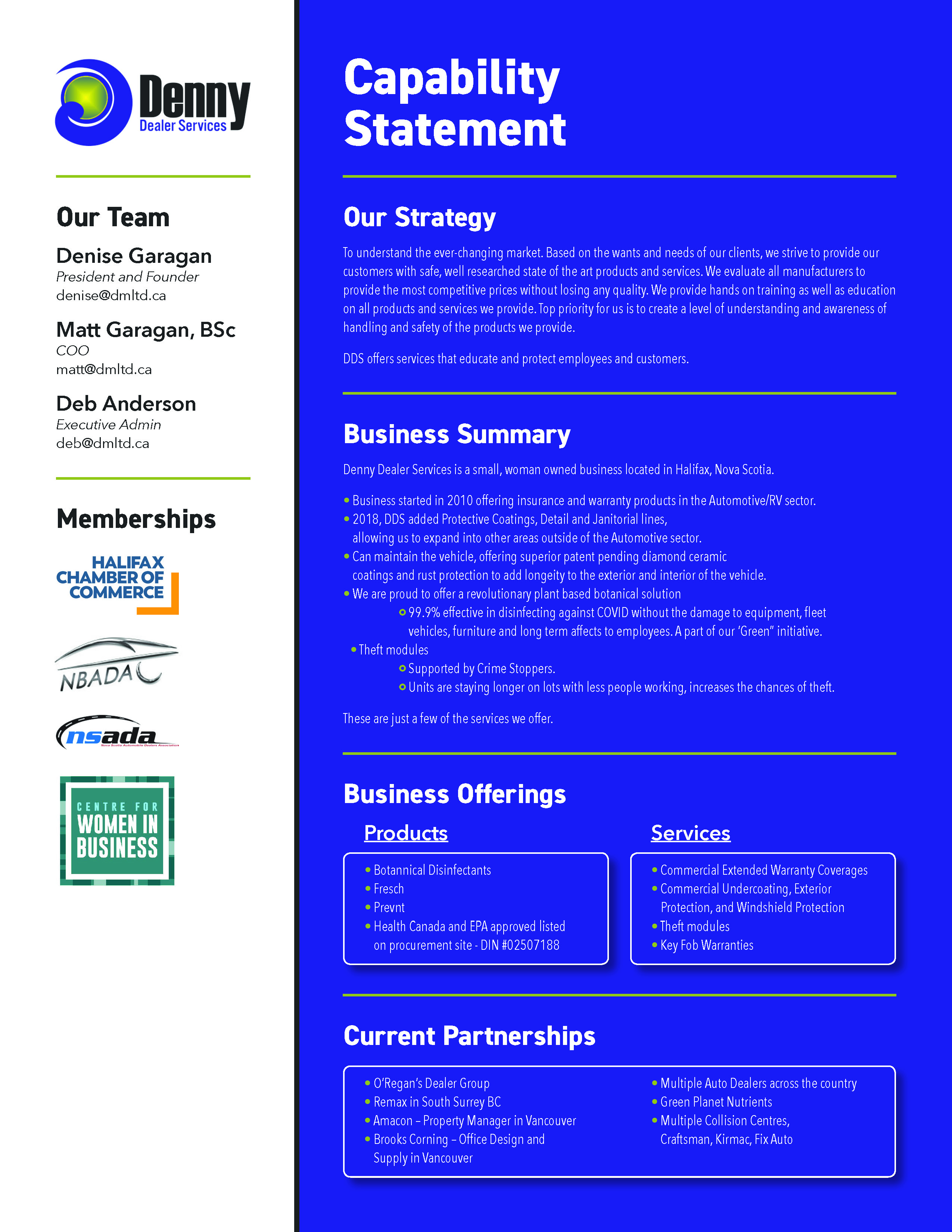 Denny Dealer Services Capability Statement
Our Strategy
To understand the ever-changing market. Based on the wants and needs of our clients, we strive to provide our customers with safe, well researched state of the art products and services. We evaluate all manufacturers to provide the most competitive prices without losing any quality. We provide hands on training as well as education on all products and services we provide. Top priority for us is to create a level of understanding and awareness of handling and safety of the products we provide.
DDS offers services that educate and protect employees and customers.
Business Summary
Denny Dealer Services is a small, woman owned business located in Halifax, Nova Scotia.
Business started in 2010 offering insurance and warranty products in the Automotive/RV sector.
2018, DDS added Protective Coatings, Detail and Janitorial lines, allowing us to expand into other areas outside of the Automotive sector.
Can maintain the vehicle, offering superior patent pending diamond ceramic coatings and rust protection to add longevity to the exterior and interior of the vehicle.
We are proud to offer a revolutionary plant based botanical solution 99.9% effective in disinfecting against COVID without the damage to equipment, fleet vehicles, furniture and long term affects to employees. A part of our 'Green" initiative.
Theft modules
          • Supported by Crime Stoppers.
          • Units are staying longer on lots with less people working, increases the chances of theft.
These are just a few of the services we offer.
Business Offerings
Products
Botanical Disinfectants
Fresch
Prevnt
Health Canada and EPA approved listed on procurement site - DIN #02507188
Services
Commercial Extended Warranty Coverages
Commercial Undercoating, Exterior Protection, and Windshield Protection
Theft modules
Key Fob Warranties
Current Partnerships
O'Regan's Dealer Group
Remax in South Surrey BC
Amacon – Property Manager in Vancouver
Brooks Corning – Offi ce Design and Supply in Vancouver
Multiple Auto Dealers across the country
Green Planet Nutrients
Multiple Collision Centres, Craftsman, Kirmac, Fix Auto